Austin High School Alumni Association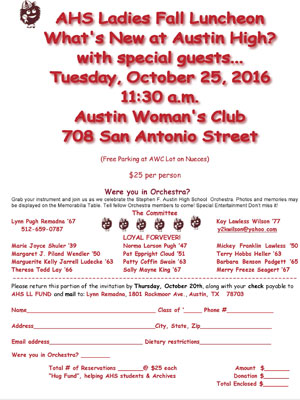 Ladies Fall Luncheon
Reservations: AHS Ladies Fall Luncheon
1801 Rockmoor Avenue
Austin, TX 78703
Class of 1976 Announces Reunion Plans
You are invited to the 40 Year Reunion of the
1976 Class of S. F. Austin High School

Saturday, November 19, 2016
7:00 p.m. until 11:00 p.m.
Lions Municipal Club House
2901 Enfield Road, Austin, Texas
Tex-Mex Dinner will be served
(Margaritas, beer and soft drinks)
$10.00/per person
(check by mail or credit card payable via Eventbrite)
Donations Appreciated
Make checks payable and mail to:
AHS Reunion '76, 1403 Hardouin Ave., Austin , TX 78703
Music & Entertainment provided by
our own classmate:
Brian Turner Band—Rockabilly Deluxe Show
Pass the word, share with others, post on Facebook

We Mourn the Passing Of Angie Reeve
Angie Reeve, AHS librarian for 19 years and archivist for the Hall of Honor died July 10, 2016.  We will miss her dedication for and love of her students as well as her embracing personality.  A memorial service in her honor will be held at Austin High School on September 17 at 2:00pm.
Angelica "Angie" Carone Reeve was born July 29, 1948, in Escalon California and celebrated her Heavenly birthday July 10, 2016. Her parents, Luigi Carone and Maddalena DeCarlo Carone were two Italian immigrants who came to California seeking a better life, her father a walnut and grape farmer and her mother an incredible cook, seamstress and homemaker. Angie learned English at the age of six and often got scolded by teachers for talking to her classmates during lessons. Once Angie learned how to communicate in English she wasn't going to stop. Angie's mother, who had quit school at fourth grade in order to care for her siblings, emphasized the importance of education, inspiring Angie to earn a Bachelor's degree from Sacramento State University and a Master's degree in Library and Information Science from the University of Texas at Austin.
Continue reading "We Mourn the Passing Of Angie Reeve" »
The AHS Band Needs Your Support
The Austin High School Band Program is in need of your support. We are proud to announce that we are growing faster than ever, but due to a shortage of state funding, we are lacking the ability to purchase and maintain essential equipment to perform.
True to the Austin High School Loyal Forever motto, the Austin High Band places a strong emphasis on student leadership, individual accountability and character building. Our hope is to have Austin High Band students become better citizens, leaders and music-lovers for life.  We understand that a vital part of the success of the Austin High School Band Program comes from our dedicated parent volunteers and strong support from our community.
Here are some of our immediate needs:
·      Costuming and equipment for Color Guard
Consultants for Master Classes and Scholarship lessons
Funding for entry fees and transportation for all non-UIL competitions
Continue reading "The AHS Band Needs Your Support" »
SCHENK, Brian William
SCHENK, Brian William
July 29, 1938 – July 19, 2015
With great sadness the family and friends of Brian William Schenk announce that he died peacefully on July 19, 2015 in Austin, Texas after battling significantly declining health for the past 2 years. Brian was 76 years old. Brian was born July 29, 1938 in Union New Jersey and after the war, ultimately relocated to Texas to attend college and pursue his teaching career. Always a dedicated and excellent student, Brian completed a B. S. Ed and M. Ed, (Texas '59, Texas '60) with 45 hours on a doctorate.
Brian also loved the Boy Scouts of America and was a boy scout, eventually achieving the distinctive rank of Eagle Scout, which he was extremely proud of.
As a young man he fell in love with everything involving railroads and trains and continued his passion for the railroad throughout his life. He volunteered as a brakeman on the Texas Hill Country Flyer for over a decade. He volunteered the last years of his life as an archival worker and tour guide at the Railroad & Heritage Museum in Temple, Texas, riding Amtrak to and from the museum in Temple two days a week.
Brian Schenk served 37 years as a Social Studies and Government Teacher in the Austin Independent School District, 8 years of which were at John H. Reagan High School. Brian sponsored the Student Council, inspiring hundreds of his students to become future leaders of high character and great integrity. Brian founded the Reagan High School Gymnastics Club at the urging of several talented athletes at the school. It was a sport he would be involved in the rest of his life.
Brian was also one of the founding leaders of the Gymnastics Association of Texas. Brian served that organization as its President, Board Member, Executive Director, and advisory member from1966 until 1994. Brian was honored by the organization as a Life Member in 1992.
The last 23 years of his teaching career, Brian taught Social Studies courses at Austin High School. He and librarian Kay Braziel started the Archives at Austin High, which is now known as the Brian W. Schenk Archive Collection at Austin High. He and four students were co-founders of the Austin High Hall of Honor and Dedication Day, a school-wide celebration which is now a cherished tradition. He served as sponsor for student council, for Hall of Honor, for Junior Historians, and served as gymnastics coach.
He maintained an eager and deeply caring interest in the lives and careers of many of his former students, dozens of whom became life-long friends. In short, Brian Schenk helped more than two generations of Texans truly engage with life, and for that, there are no sufficient words of gratitude. He was and remains beloved, and he will be dearly missed.
Brian is survived by his loving sister, JoAnne Schenk Phillips, and long-time friend, Dianne Luke, of Fort Myers, Florida; Niece Kelli (Phillips) Bechtel, husband Gregory, great-niece Samantha and great-nephew Ian, Nephew David Phillips, wife Christine, great-nephew Dustin and great-nieces Mercedes and Meranda, Nephew Andrew Phillips, great-nephew Dylan and great-niece Kennedy, Nephew Perry Phillips, wife Michelle, great-niece Amber, great-nephews Matthew and Joshua, great-great-nephew (Amber's son) Owen.
A memorial service for Brian will be held in September in Austin. Plans will be announced through social media and by close family and friends as they are developed. Next week, a memorial website will be posted by the Weed-Corley-Fish Funeral Homes of Austin. That site will offer Memorial Service information and provide family and friends the opportunity to read more about Brian and all his interests and life achievements Friends are encouraged to share pictures and memories of their times with him and offer tributes to his impact on their lives. That site can be accessed at: www.wcfish.com
In lieu of flowers, Brian strongly requested that memorial donations be made in his name to the Railroad & Heritage Museum in Temple, TX. If anyone would like to make a donation in Brian's name please send your donation to:
Railroad & Heritage Museum, (254) 298-5190 Archives, (254) 298-5172 Museum, www.rrhm.org
Mailing Address:
Craig Ordner, Archivist
Fred M. and Dale M. Springer Archives – SFRH&MS Temple Collection
315 W. Ave B
Temple, TX, 76501
Published in Austin American-Statesman from July 26 to July 27, 2015
Gentle Ben emotional in Augusta farewell
Team Crenshaw's history at the Masters comes to a bittersweet close
AUGUSTA, Ga. — The clouds had been building in the distance and, as if on cue, that first long low rumble of thunder enveloped the Augusta National clubhouse and the 18th green just as Ben Crenshaw got to to his tee shot. He had pull-hooked his 3-wood off the tee and was, as usual, scratching his head.
He looked up and saw longtime caddie Carl Jackson standing behind the green and lofted one pretty third shot to the green. It went long, but then slowly started to trickle back toward the hole. That's the kind of shot you hit when you know this course intimately and, well, after 44 years, Ben knew he had this one.
---
BEN CRENSHAW: Last ride at Augusta National | Masters memories throughout the years | WATCH: Interview following last round
---
Two putts later, Ben and Carl were embracing on the green. Carl couldn't carry the bag this week — he wasn't up to it — so his little brother Bud stepped in. But there he was at 18 – all 6-foot-5 of him – in his white Masters jumpsuit waiting for his old friend.
It was a long, sweet hug that was punctuated by a second rumble of thunder and a few drops of rain.
Ben Crenshaw hugs caddie and longtime friend Carl Jackson on No. 18 after playing in his final Masters. (Andrew Redington/Getty Images)
And, yes, there were tears. You just couldn't see them.
"I love you,'' Ben said.
"I love you too," Carl said.
A few feet away, Ben's oldest daughter Katherine was wiping away the tears that had been coming for a while. She's so like her dad – emotional, caring, perceptive.
The rumbles, she said, were only fitting. "We just knew there were other spectators in the area, too, looking down. You couldn't write a better finish."
Continue reading "Gentle Ben emotional in Augusta farewell" »
Don Zirkle, Former AHS Teacher
Zirkle passed away at his home in Austin on Christmas Day, 2014, at the age of 76. Don was born on March 26th, 1938 in Santa Anna, Texas to Earl and Thelma Zirkle.
After graduating from Coleman High School in 1956, Don attended Texas A&M, receiving a BA in History and Political Science in 1960. After graduation, he received a scholastic scholarship to Rice University, where he studied Library Science from 1960-1961. In 1961, Don joined the Navy, commissioning as an Ensign. He served aboard the aircraft carrier USS Coral Sea from 1961-1964. After leaving active duty in 1964, Don joined the Navy Reserve and moved to Austin. In 1965, he began teaching World History at Austin High School, while also attending the University of Texas, receiving an MA in Education in 1970. In 1985, while still working with AISD as the Library Media Coordinator, Don retired as a Commander from the Navy Reserve. In 1995, Don retired from AISD after 30 years of service. Even after retirement, he continued to work part-time as a computer tech with AISD Library Media Services for another 15 years until his "second" retirement in 2010.
Throughout his life, Don had a passion for books, history, old movies, and traveling around the world… But he loved nothing more than he loved his family. He will be remembered by all who knew him for his exceptional generosity and his kind, loving heart.
Don is preceded in death by brothers David and Bobby Joe Zirkle, and sister Linda Dove. He is also preceded by sister-in-law Virginia and nephew Dwight.
Don is survived by his wife of 38 years, Shirley Hall Zirkle of Austin. He is also survived by his son Brent Zirkle of Lewisville, and granddaughters Emma, Olivia, and Sarah. Don is also survived by his daughter Stephanie Zirkle of Austin… And finally by his youngest son Jason Zirkle and wife Alison of Austin, and granddaughters Charlotte and Gillian.
In Memoriam List for AHS Alumni Who Passed Away
A current list of deceased Austin High School Alumni is kept up-to-date on this website by a dedicated alumni of the class of 1964, Kaye LaGrone. Kaye is an invaluable asset to her class and to all who use this site as she continues to be very involved with her classmates and other alumni. To access the page, click here or you can click on the Class Page tab at the top of the page and then the link to In Memoriam.
If you have class information you would like to share, please email the webmaster.
Who Was the First Female Band Member At AHS?
As a cool autumn breeze fills the air, stadium lights shine down on well-manicured football fields, illuminating each yard line until they seem to glow. When the football team leaves the field for halftime, another group of students enters the spotlight. Almost undistinguishable from one another in their crisp uniforms, they march onto the field as a single unit. Underneath the tailored garb, the modern-day marching band exists.
At the intersection of Twelfth and Rio Grande streets in Austin, Texas, sits a Romanesque-style yellow-brick building, with columns and arches that served as Austin High School (AHS) from 1925 to 1975.  A talented band director from Houston, Weldon Covington, arrived at the school in 1931 to find a significant problem in the music program: the bands, once award-winning, had dwindled to almost nothing. The marching band he inherited consisted of a meager eight members, and his choir and orchestra suffered from low participation numbers as well. One of his choir members, Verna Long, expressed interest in joining the marching band, but "school regulations excluded girls from the Maroon Band in the early 1930s." She was not the first girl to express interest in joining the marching band and she would not be the last.
Nicknamed "Everybody's Sweetheart," Mary Love Armacost, the first drum majorette at Austin High School, joined the band in 1934. Drum majorettes, the only females then allowed to be part of the group, were baton twirlers and leaders who did not march with instruments on the field. Despite the limitation of excluding girls to march, Covington built a successful and large band of more than ninety members by 1938, earning many accolades in his first years at AHS.
In 1939, a young girl new to Austin High School challenged the all-male marching band rule. Charlotte June Stevenson, a talented flutist, moved to Austin from New York and asked Covington if she could join the marching band.  Although his band had grown significantly from the meager band he inherited, he still yearned to increase the depth and aptitude of the Austin High Maroon Band. He thus encouraged Stevenson to join the orchestra and use that ensemble as a musical outlet until he could get the rule changed. According to an account by Covington in 1996, once she started drawing attention to the issue, other girls started to voice their desires to march in the band. Covington, noted for fairness and excellence in teaching, wanted talented musicians in the band and no longer wanted gender to be a factor in membership. Continue reading "Who Was the First Female Band Member At AHS?" »
Oh, What a Weekend!
On Friday, ten of us met up at Austin High for Dedication Day, which was a great way to kick off the weekend and an even better reminder that we are part of an incredible community of individuals who are Loyal Forever. The oldest graduate recognized left Austin High in 1935 and there was a fifth generation Austin High student in the crowd!
Then, on Friday night, we took over the second floor at the Tavern. We ate, we drank, we laughed and we laughed some more before we overheard Josh Williams say, "Bring it in, bring it in" and we called it a night.
The main event on Saturday night at Alta's was simply amazing. We sold 108 tickets — more than for the 10 year! Folks came in town from places like Colorado, Pennsylvania and North Carolina just to attend. Michael Swail's place on Town Lake was the perfect spot to convene, and the food was delicious. From the playlist put together by Dave Cardiel to the photobooth to the door prizes (we narrowly avoided a riot over the bottle service gift certificates for Palazio, donated by General Manager Bobby Rinehart) to the loud buzz of everyone catching up, we all agreed that the evening went by too quickly.
Many of us headed over to Javelina's afterwards, where some of us complained about how our backs and feet hurt and where we looked for a place to sit down (and, yes, where we easily blended in with the 20-somethings!) As great of a time as we had, we really missed everyone who couldn't make it, for whatever reason. Here's a link to the slideshow with over 200 photos from way back, today and the reunion weekend
Loyal Forever!
Latest News and Events