Welcome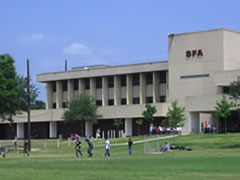 LOYAL FOREVER, the Austin High School Alumni Association, was created in 2006 following the Austin High 125th Anniversary Celebration. That event drew nearly 2,000 Austin High alums together and raised over $50,000 for the Austin High Endowment Fund and $20,000 for the creation of the alumni association.
In the 126 years since Austin High opened its doors, more than 43,000 students have attended Austin High with an estimated 12,000-15,000 still living. The alumni association, with a board of directors representing six decades, will allow graduates to stay in touch with their friends and classmates as well as to be aware of giving opportunities and events at Austin High. The website will be an evolving tool for the use of our alums and will be updated several times a week.
Funding for the Austin High Alumni Association will be through membership dues ($25 Annually, $250 lifetime) and sponsorships. While we do not see the alumni association as a fund-raising group, we will make sure that graduates are aware of the different groups that offer a chance for giving opportunities. Excess funds from membership fees to the alumni association will be used to fund the Brian Schenk Austin High Archives, Dedication Day, the Stephen F. Austin Society, the continuing Education Foundation and the Excellence Fund.
If you have not yet joined the Alumni Association we hope you will take this opportunity to celebrate the history and tradition of Austin High.