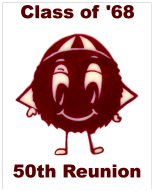 Fun Fall Weekend!
Friday & Saturday, October 19th & 20th
Friday – All gather at Scholtz's Beer Garden about 6 pm – each person pay their own way.
Saturday – All join for Dinner & Socializing – 6pm-9pm Santa Rita Cantina, 1206 West 38th St., 78705 (26 Doors across from Seton Hospital). Tex-Mex buffet and cash bar.
Reservations are $35/person by Oct 1, 2018. $40/person at the door.
For Golfers: Saturday – Golf at Lions Golf Course, (Old Muni) @ 10 AM $60/person by October 1, 2018 Includes beverages & snacks at the end.
NOTES:
To minimize the time our classmates need to work the front table check-in, we encourage everyone to Pay in Advance by Oct 1, 2018. It will also help if you can arrive during the first hour to check in.
If you feel reunions are not your thing, you are not alone. We who are working on this event want to assure you that as part of our group, our class, you are most welcome.
Forward checks by Oct 1, 2018 for golf ($60/ea.) and buffet ($35/ea.)
Payable to: AHS Class of 68 Mail to: Darrold Smith, 1809 Cullen Ave, Austin, TX 78757
Name badges – if your spouse or friend will attend with you, we will need their name for their name tag. Send us their high school photo if you can provide it. We are scanning in our yearbook photos for the tags and would like theirs to look like ours! Send E-mail to Carolyn at our yahoo E-mail with attachment of photo or, where to look for it.
Please let us know any E-mail updates for yourself or other classmates. ahs.class_of_68reunion@yahoo.com
Later we will send a list of those classmates we have not been able to reach by E-mail or postcard, maybe you will be the one to help them be found!
Note that we will also post information about reunion on Austin High's Loyal Forever website under Events. If you have not registered and updated your information with that site, they would like you to do so! Site URL: http://www.loyalforever.com
Looking Forward to Seeing Everyone!
Your Reunion Committee:
Tom Barton, Jenny Bradley, David Ford, Johnny Gaulding, Carolyn Harper Scott,
Amanda Hicks Mitchell, Tommy Holt, Dottie Ledbetter Hall, Mike Marks, Ann McIver,
Barbara Railey, Rita Ramsey Kreisle, Darrold Smith, Caroline Wardlaw O'Quinn & Louisa Williams
Join the forum discussion on this post - (1) Posts