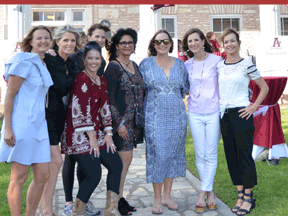 Congratulations to the Excellence Committee on their inaugural Evening of Excellence benefitting Stephen F. Austin High School.  The honoree on Friday night was Steve Saunders a local attorney who did not attend AHS, but supported the school through his efforts and gifts.  He has two children who did graduate from AHS, Kate and Ian.  This honor was well deserved.
Thank you to the Evening of Excellence Committee:
Robin Levatino, Summer Youngblood, Elizabeth Kalbacher, Jana Howden, Joni Guerrero, Ashley Putman, Jenny Holland, Lea Ann Durand, Hannah Neill, Mary Jane Monsivais, and Ashley Unbehagen.
The Evening of Excellence will be an occasion to celebrate, honor and support SFA through the annual giving campaign of the Academic Excellence Fund.  For more information contact Summer Youngblood.